Well, I've been busy lately.. working Monday-Friday 9-5.. blegh. I'm staying with my sister (we work together) in her apartment right outside of Philly. We just got home this past weekend, so I did some baking! I left some at home, sent some (hope they last in the mail) to my friend for his birthday, and gave some to the boy for him and his apartment-mates.
I (finally) made the Sparkled Ginger cookies from VWaV!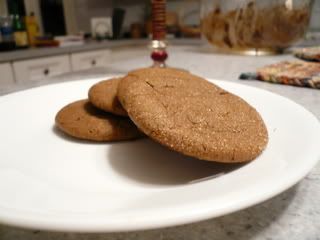 And Squirrel's chocolate cookies with peanut butter again. Chris actually requested them.. they're a hit!
Oh yeah, and I don't have any pictures, but last weekend I surprised Chris by showing up at West Chester with a picnic. Since I'm staying in Philly this summer we don't see eachother much. I took ham and cheese for him, and I had a peanut butter and ricemellow creme sandwich, at Ridley Creek State Park. It was nice!
In other news.. even though I won't stay there much, I'm moving into my apartment either tomorrow or Friday, woo! Pictures to come!